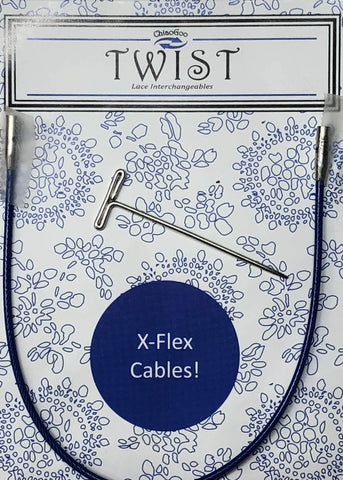 ChiaGoo XFlex Blue Interchangeable Cables
TWIST cables are memory-free and these new blue cables are super flexible to make knitting with the smaller diameter circular knitting needles a breeze! They consist of a multi-strand, steel cable coated with blue nylon.
The 8″ (20 cm) length can only be used with the 2", 3" or 4″ (10 cm) tips to make a 12" - 16″ (40 cm) circular or connected to other cables.
The 6" lengths can be used with either the 2" or 3" tips.
The 5" length can only be used with the 2" tips for circular needles.
Any of these cables can be used with any length tip to make flexible double pointed knitting needles.
Lifeline holes can be found at each end of these cables. Insert the T-shaped tightening key into the lifeline hole to assist with securing your tip/cable connection.
SPIN tips will work with TWIST cables. 
Available only in small [S]. Large tips can be used with these cables as long as the Large to Small adapter is used to connect the tip to the cable.