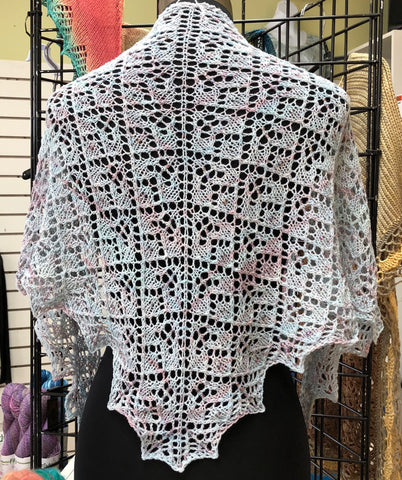 Claire Shawl Pattern
Claire Shawl by Kay Meadors for Fiberlady yarns.
Pattern yarn weight: 
Pattern Skill Level: 
50% bamboo/50% Merino knitted shawl with beads. The lace and beads are spread throughout the entire shawl pattern.
This pattern is written to use the Fiberlady BaaBoo yarn, but Midori or Bouncy Boo could also be used for this pattern.
Bead sets are available separately.
Requirements (sold separately):
Needles: US 7 (4.5mm) 14" straight or 16" or longer circular
Yarn: 400 yd sport weight yarn
Beads: 370 6/0 seed beads
Pattern Page on Ravelry: Coming Soon